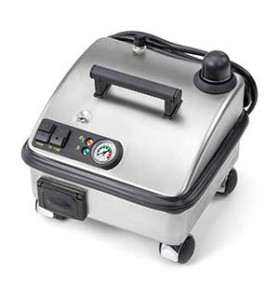 Features Include:
1800w Tungsten Welded Stainless Steel Boiler
0.7 liter Boiler with 2 liter Reservoir for Continuous Steam Operation
Adjustable Pressure Control, Up to 75 PSI Steam Pressure
Extra-long 11.5 ft. Detachable Steam Hose with Safety Handle
15 ft. Electric Power Cord
Replaceable Heating Element
Initial Heating Time of Only 4 Minutes!
Nozzle Tip Temp: 240º – 280º F
Large Castors for Easy Mobility
Complete Set of Accessories & Attachments Including Fill Bottle & Accessory Bag
Does NOT vacuum, only steam cleaning
Made in Italy
The Pro6 has become the steamer of choice for pest control operators, hotel and property managers due to its unmatched combination of price and features. With a stainless steel boiler and exterior, the Pro6 is perfect for those with heavy duty steaming needs and is ideal for bed bug control. The small 0.7 liter boiler heats up in as quick as four minutes but will never run out of steam due to the large 2 liter dual reservoir which provides warning when it is running low. This combination can allow for 24/7 steam cleaning to greatly reduce time spent in any one area.
The Pro6 features a 1800 watt stainless steel boiler for fast recovery but has a low 13 amp draw to save electricity. Its high tip temperature between 240º – 280º F makes bed bug treatments extremely effective and the 11.5 ft detachable hose allows you to thoroughly treat hard to reach areas. The Pro6 offers convenience, durability and exceptional quality making it the most affordable heavy duty continuous fill steamer on the market.