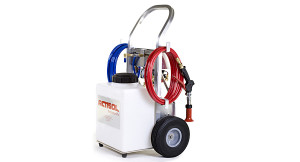 Precision application / tank mixing
Reduced maintenance expenses
Full day service from one charge
High quality aluminum construction
Built in back flow prevention
Filled from common spigot or garden hose
The Actisol® Perimeter Pro is designed to perform precision exterior and perimeter applications, reducing cost and increasing productivity while enhancing professional appearance. Powered by a 12v deep cycle sealed lead acid battery. To reduce or eliminate the transportation spill risk this system is designed to be empty after every application. It can be filled easily from any garden hose or spigot, which eliminates the need to travel back to the service vehicle to refill, roll hoses or recirculate. This reduces fatigue and time spent at each account.