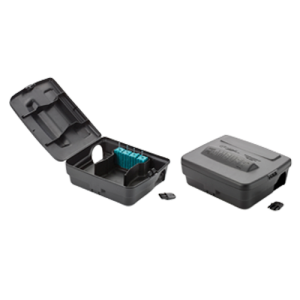 Removable trap for easy cleaning
Made of heavy duty injection-molded 100% recycled plastic.
Key location guide; symmetrical key self-orients into the lock
Measures 8 1/12 x 101/4 x 41/4
This low profile tamper resistant station contains 4 vertical bait locking rods and can only be accessed once opened with the key. Each trap can hold either a T-Rex Rat, a Mini Rex Mouse or up to 4 bait blocks.