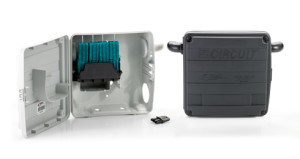 Looks like an electrical box for a discrete placement.
Fast and easy to use
Made of 100% recycled plastic
For use indoors and outdoors 
Kid and dog tested; proven tamper-resistant
Dimensions: 9 in. x 9 in. x 4 1/8 in.
Perfect for sensitive accounts where discretion is essential. It includes simulated connectors that slide into the sides of the station, making it appear as an electrical box.
Single locking mechanism provides quick servicing combined with a station that is strong enough to provide a high level of tamper-resistance.  Contains 4 vertical bait positions with locking rods that won´t fall out during cleaning and a removable tray with rounded corners for quick station servicing. Baiting or trapping, this station offers multiple options to fit the needs of your customer.  When placed vertically it can hold 8-1oz. bait BLOX.  Horizontally, it can either hold a T-REX™ rat trap, MINI-REX™ mouse trap, or up to 4-1oz. bait BLOX.