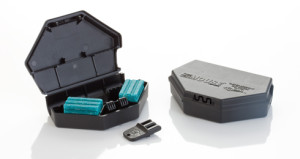 Evo Mouse Bait Stations hold Blox bait or Soft Bait
Bait rods included with internal clamps to hold soft bait paper
Quality with its durable and special plastic polymer construction
It features the EVO key for quick entry and servicing and holds either BLOX or soft bait. It is a versatile and time efficient mouse-sized bait station – expertly designed for professional results.
Triangular-shaped with angled entry holes, it fits flush against a wall or in a corner. Designed with a rounded edge – the station lines up against wall coping for a tight fit. Suitable for both indoor and outdoor use, its small size makes it ideal to use under pallets, behind appliances or in cupboards. Place bait stations wherever rodents travel – around the perimeter of buildings and along rodent runways.