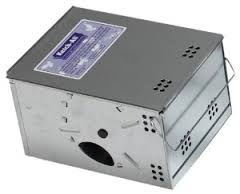 Multiple Catch trap – Holds up to 15 mice
Durable-galvanized steel
Clear Flex Lid for easy inspection
Dimensions: 9 ¼ x 7 x5 ½ Inches
Multiple Catch Mouse Trap – Holds up to 15 mice. Mice enter through openings in both sides of the trap. A paddle wheel is activated by a trigger mechanism in the tunnel. The mice are deposited in the front chamber.