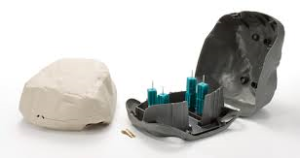 Granite or Sandstone
Made from 100% recycled, heavy duty injection-molded plastic
Symmetrical key self-orients into the lock
Blends in with outdoor surroundings
Dimensions: 13 in. L x 11 in. W x 8 in. H
Looking every bit like a rock this rat-size bait station is designed to blend in with outdoor environment. Its realistic colors – sandstone and granite – and naturally textured surface give this bait station the authentic look of a rock.
The single lock with the EVO key provides added security and allows for easy opening and closing. Four vertical bait securing rods hold eight 15g, 20g or 28g/1 oz. BLOX securely in the station. It can also holds a T-Rex Rat Snap Trap.