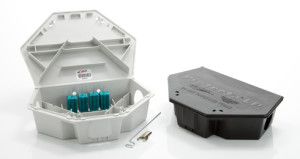 Tamper resistant – keeps rat bait away from children pets and non-target animals
Automatically locks when closed – special 2 prong key unlocks device
Compact – fits in tight baiting places such as under pallets, in cupboards, behind appliances
Unique shape – Opens to the side for fast, convenient servicing, even when the rat bait station is secured
Range of use – PROTECTA LP Rat Bait Station can be placed against a wall or in a corner
Construction – Made of heavy duty injection-molded plastic to withstand tough baiting situations
Bait protection – keep rat bait fresh longer by protecting it from dust, dirt, moisture and other contaminants
Dimensions: 13 in. x 9 in x 3 and 3/8 in.
This bait station is a triangular shaped, rat-size bait station that fits in corners and flush along walls where rodents travel. Its "Low Profile" makes it ideal to use indoors under pallets and in other tight baiting locations.