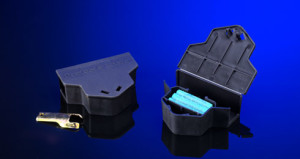 One of the smallest and most economical tamper-resistant bait station
Specifically designed for use in tight baiting situations
Made of rigid heavy duty polymer plastic to withstand temperature extremes
Easy to use, locks when closed, and unlocks with universal two-prong key
Dimensions: 6 in. L x 5 1/2 in. W x 2 1/2 in. H
Easy to use, automatically locking when closed and unlocking with Bell's 2-prong key. Technicians can place the Micro along walls, in corners and in very tight places. Holes on either end provide a direct runway for mice into the station.