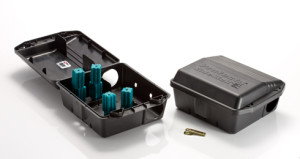 Suitable for both rats and mice
Holds close to 1kg of bait
Fits in corners and along walls
Keeps bait away from children and pets
Interior corners are rounded for easy cleaning
Measures :9 1/2″ x 8 3/4″  x 4 1/2 inches
This bait station works both as a bait station and monitoring device. With the verticle rods the sidekick can hold up to 2lbs of bait. As a monitoring device it holds a T-Rex Rat Trap to capture rats as they enter the station.