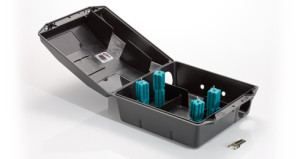 Made from 100% recycled, heavy duty injection-molded plastic 
Symmetrical key self-orients into the lock
Rounded interior walls for quick cleaning
Bait securing rods and service card are included 
Dimensions: 11 inches (L) x 12 inches (W) x 5.5 inches (H)
Sidewinder Bait Station is the most versatile and time efficient station available. It opens to the side, like a book, giving technicians easy access to the station when it's placed along walls where rodents travel. This multi-functional bait station holds the full range of rodent control products – baits and traps.