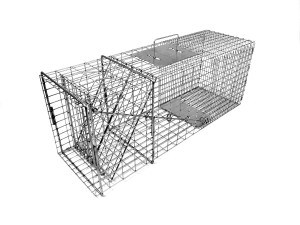 Designed for raccoons, cats and similar sized animals.
It weighs 11 pounds
Measures 32L x 10W x 12H
The trap features a sturdy frame constructed of heavy 12 gauge galvanized steel wire mesh for maximum resistance to rust and corrosion. Welded to the wire mesh are galvanized steel rods for extra support and reinforcement.  An open fabric construction allows the critter to see through the trap in all directions and enter with confidence.  Galvanized half inch by half inch wire mesh openings are welded to the bait area to help prevent animals from reaching through from the outside of the trap. Securely and safely trap the animal inside the trap after the animal steps onto the trip pan at the back of the trap.  Super fast spring loaded automatic locking V-door elimates the change of the animal backing out of the trap before the door springs shut and locks into place.  The special locking system and heavy reinforcement of the trap doors prohibit trapped animals from forcing the door open, even if they turn the trap upside down.