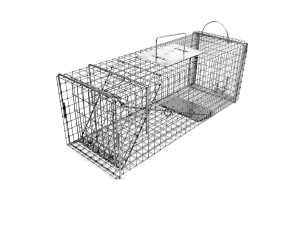 Designed for cats, rabbits and similar sized animals.
It weighs 7 pounds
Measures 26L x 9W x 9H
This trap is contructed from 1″ x 1″ – 14 gauge galvanized wire mesh with the "bait saver" feature which is a tighter 1/2″ x 1″ mesh pattern in the back portion of the trap to prevent animals from reaching in from the outside and stealing bait. This trap also has an easy release rear door.