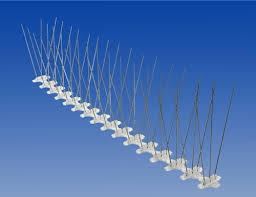 Available in : 3″, 5″, 8″ Width
Can safely bend 360 degrees
Comes in 2′ sections, 50′ per box
Made of stainless steel pins in a U.V. protected polycarbonate plastic base
Bird B Gone Stainless Steel Spikes come in a variety of sizes. Depending on your ledge surface you can choose from 3″, 5″ and 8″ width to help cover and protect the area. Bird Spikes are an effective, humane solution for deterring large birds from landing in unwanted areas.  The Stainless Steel spikes can bend 360 degrees so it is ideal for using around signs and lamp posts.