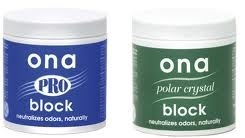 170g blox formulation for small areas
available in polar crystal and ona pro scent
Made of essential oils, this product is safe to use around plants, people and pets. It is ideal for small areas such as closets, foyers, attics, cars, gym bags, boats, kitchens, garbage cans, cupboards or vents. Simply remove the cap, or punch several small holes in the cap and place in desired location. The ONA Block measures 3″ x 3″ and will fit in most places.
This product is not a cover up it will release its powerful odor neutralizing agent and keep the location free from undesirable odors.